One of my projects got upgraded to a fancy HTML newsletter and it looked like a good opportunity to do something interesting with an obligatory Unsubscribe link.
Conventionally, the link leads to another page that acknowledges the unwelcome news, confirms the unsubscription and pleads to undo the mistake - we are sorry to see you go, yadda yadda.
I thought I'd try and keep things simple and streamlined at the same time. Like so: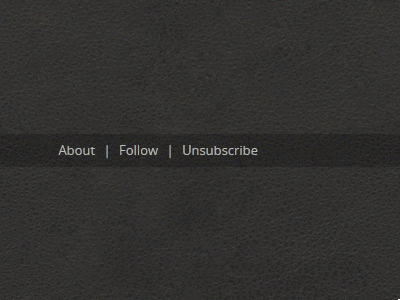 ---
Things to note:
All relevant information and all interaction is restricted to a small area of the same page, not 600px worth of text on another page… that also happens to be styled differently.

The Yes/No step is a conservative safeguard that catches those clicking on Unsubscribe accidentally or out of curiosity.

Technically speaking, such people can always re-subscribe, but in reality there will be some who won't. Every subscriber is valuable, so it's better be conservative and prevent rather than proactive and undo.

Re-subscribing is a one-click operation.

Showing a Re-subscribe link seems like an obvious idea in retrospect, but it took me a while to converge to it.

When a page realizes that a visitor is a past subscriber, it shows Re-subscribe link instead of a more general Subscribe option. This facilitates bringing past subscribers back on the list.
---
---
† Obviously enough, this is for web versions of the newsletters, and not for those sent out by email. Latter are barely stylable, leave alone being scriptable (link).